The October juried exhibition, We Are Enough, was combined with another curated show titled Solidarity and Survivorship at the Oak Park Art League, and I had pieces in both. Both are moving testaments to life and acceptance and harsh realities and celebration, and I expected they would be moving to see, but I didn't expect just how much I would be moved.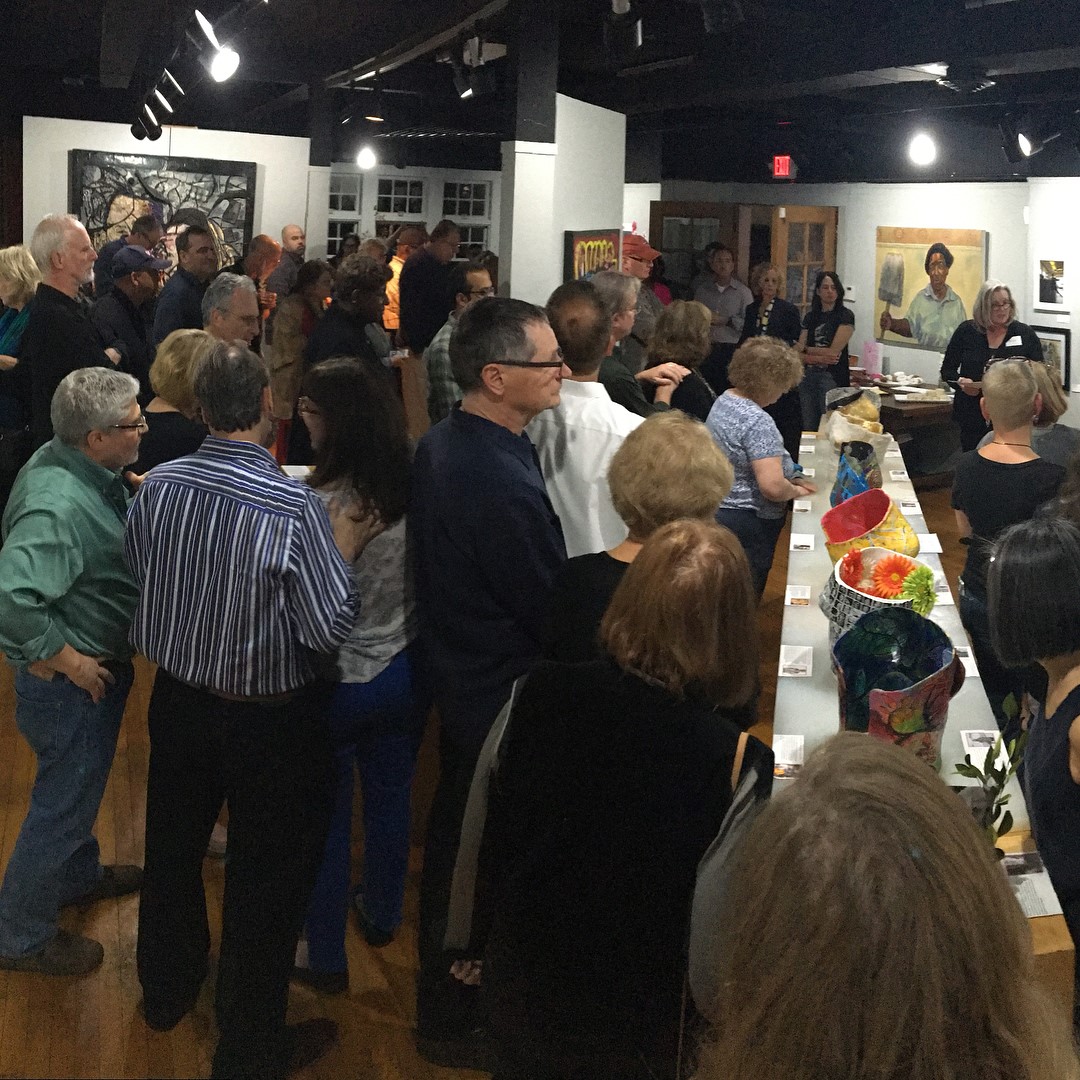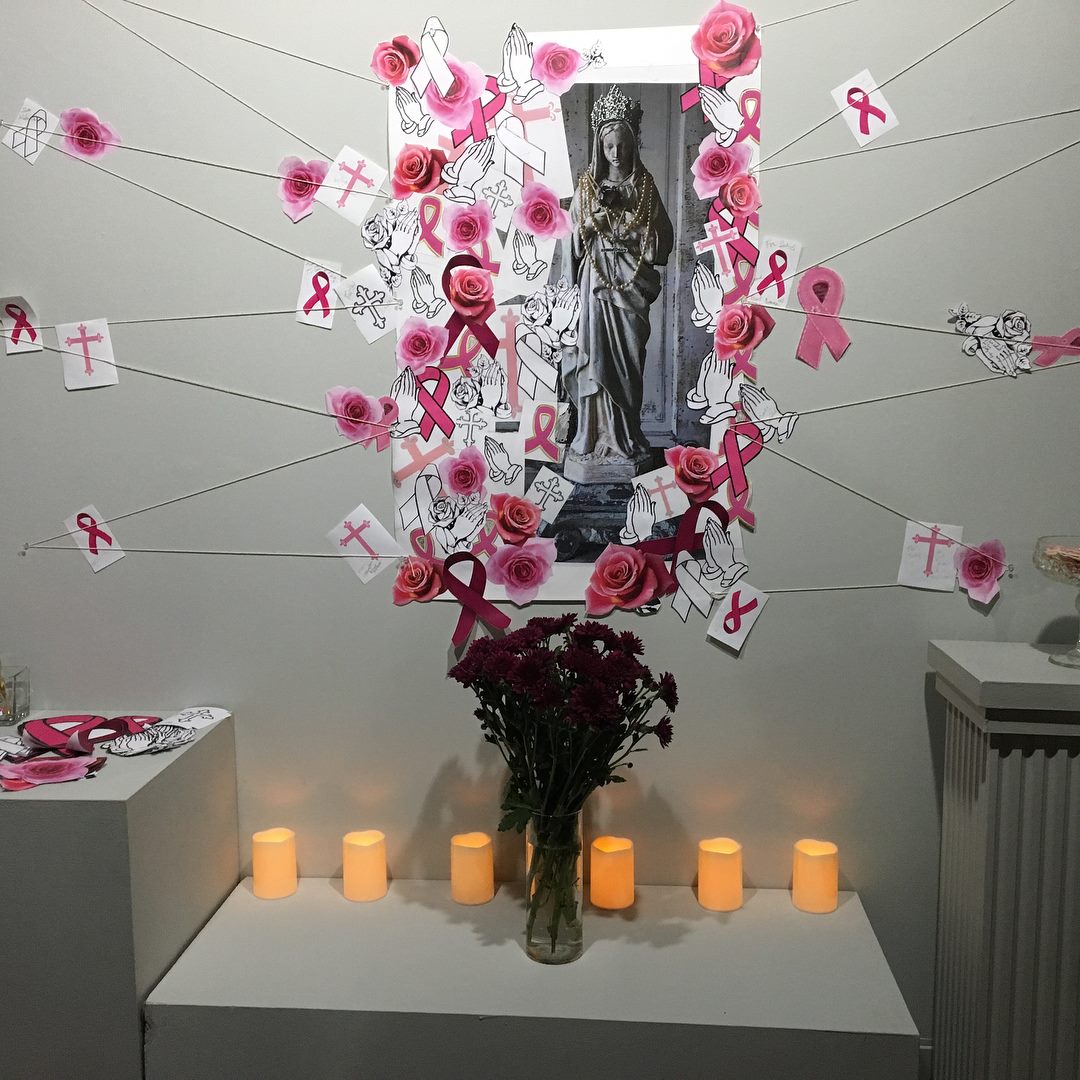 First, I was honored to have had a work selected by juror Susan Sensemann for We are Enough. I don't do a lot of figurative work, but I enjoy it, and for this particular exhibit it meant a lot to me to express the idea of how complex body image can be — how there is a duality between hiding and being out there, and the in between.
Here is Susan's juror's statement:
Self-worth is a birthright that is essential to our lives as human beings. It is as deep-rooted as the inhale and exhale of our breath and the placement of our bare feet on the earth. Being present, grounded, engaged and alive to possibility is a right and not a privilege of rank or race, not a norm established by any other's measure of worth. Owning the right to be oneself? Finding a state of mind that accommodates our individual and inherent power? Inhabiting our bodies with willful and full-throated acknowledgement? Where do our own rhythms reside? Holding ourselves close and dear is greater than pride, richer than currencies of style or expectation. We are more than enough.​

Thirty-six works in this exhibition demand our attention as we strip the myths bare, become warriors of the spirit and enumerate the sum of our glorious parts. We touch a bicycle rack and raise a leg in tondu-side, all grace and strength extended. With the fragile beauty of hope we shape ourselves and don a striped dress. We expose what lies within the shaman's gaze – our wits and heartache – and know the vessel of our sanctity.  Oh sister, sisters, brothers, we portray ourselves as connected beating hearts. We are more than enough.
I just love that my painting got to live next to this beautiful Margot McMahon sculpture!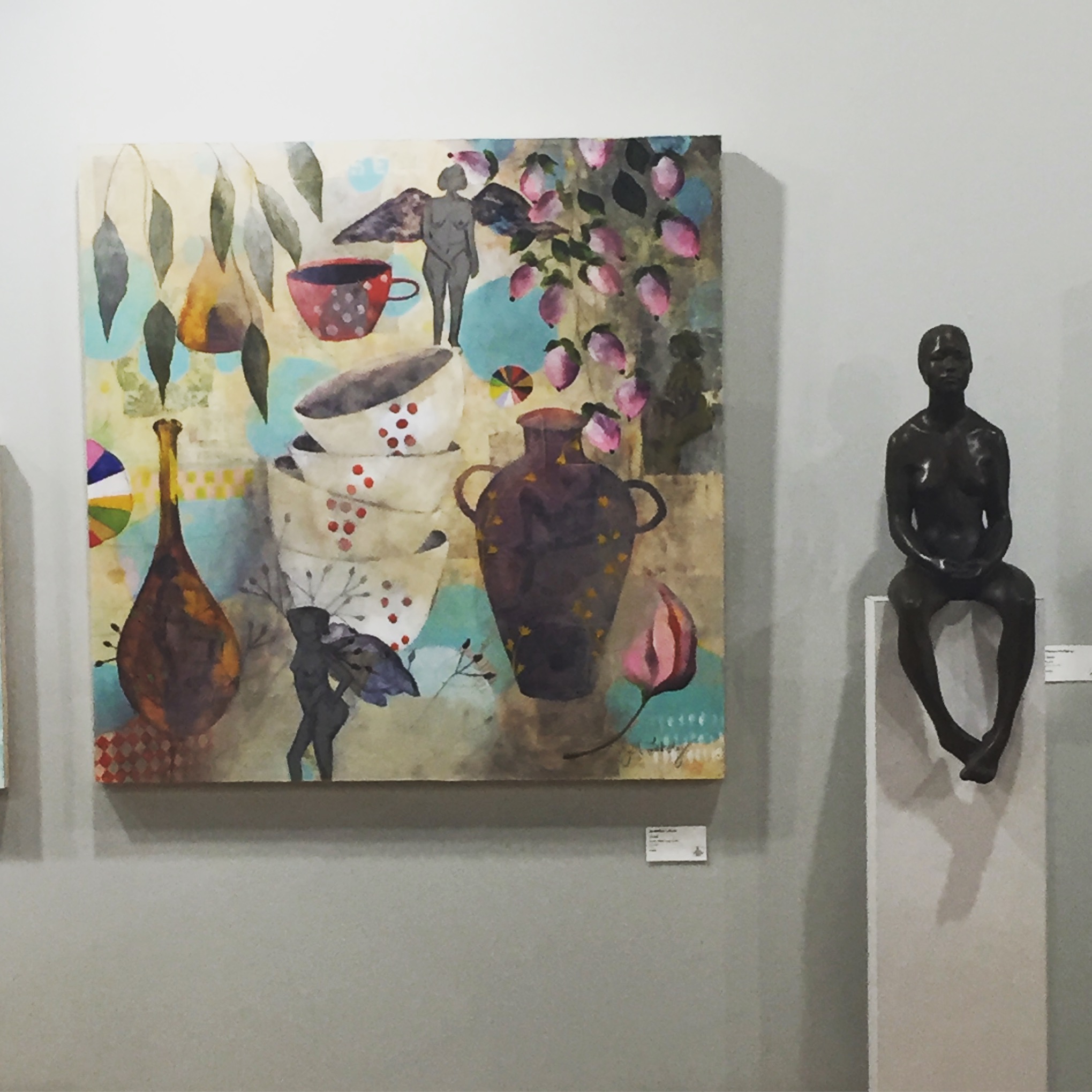 In July, the director of the Art League asked me if I'd like to participate in this curated project in which artists would be matched up with survivors of breast cancer. The survivors would have plaster casts made of their torsos and the artists would paint them. This was part of a much larger program created by the Keep-a-Breast Foundation, and locally it was going to be called Solidarity and Survivorship.
Breast cancer punches me in the gut, probably not unlike a whole lot of other people. I've not had it, but I sure do know women who have — my mom, my aunt, my grandmother, friends, moms of friends, sisters of friends, and two women in particular who I loved very much who did not survive the disease. My friend Julie and my cousin Julie, both diagnosed within a week of each other back in 2003, were both women in their early 30's and both seemingly very healthy. Both diagnoses came out of nowhere — one after my friend found a lump, and one after my cousin couldn't shake a nasty bout of bronchitis and further tests were done. My friend died in late 2006, and my cousin passed in late 2011.
The person I was matched with, Andi, had a double mastectomy like my mom did, and didn't have reconstructive surgery. I didn't meet her until the opening night of the show, but I did get a list of things she loves and learned a little bit about her, so I had an idea of where to take the cast. For some reason, I started making crepe paper leaves on floral wire knowing I wanted to build a garden beyond the plaster itself. I never do this, as I am not especially crafty. I struggled to master making paper flowers when I worked at Paper Source several years ago, and never really got the hang of it. I got glue everywhere and everything just always looked a little "off." Fortunately, the leaves for the cast all turned out pretty decently, and I needed them for what I wanted to do.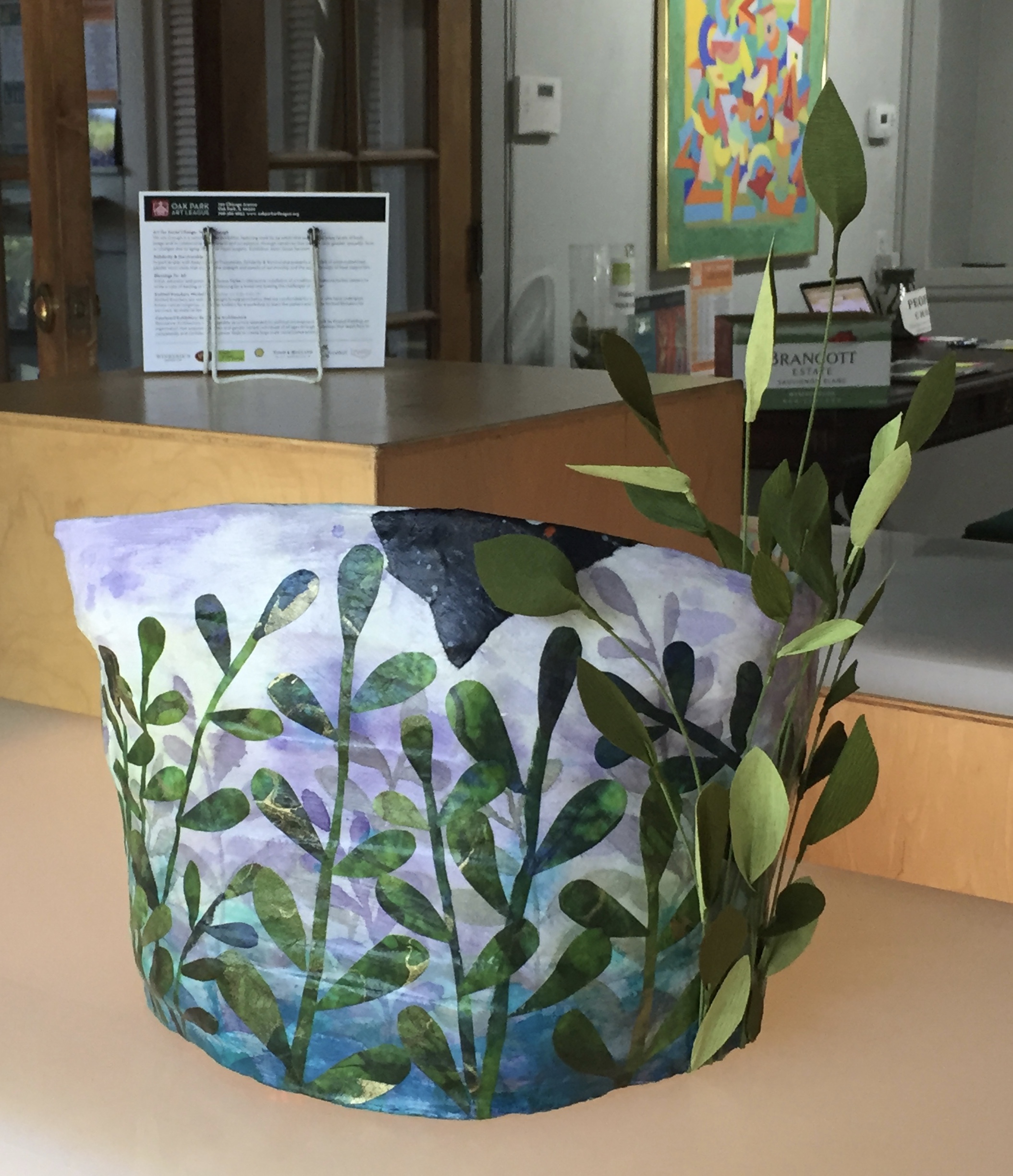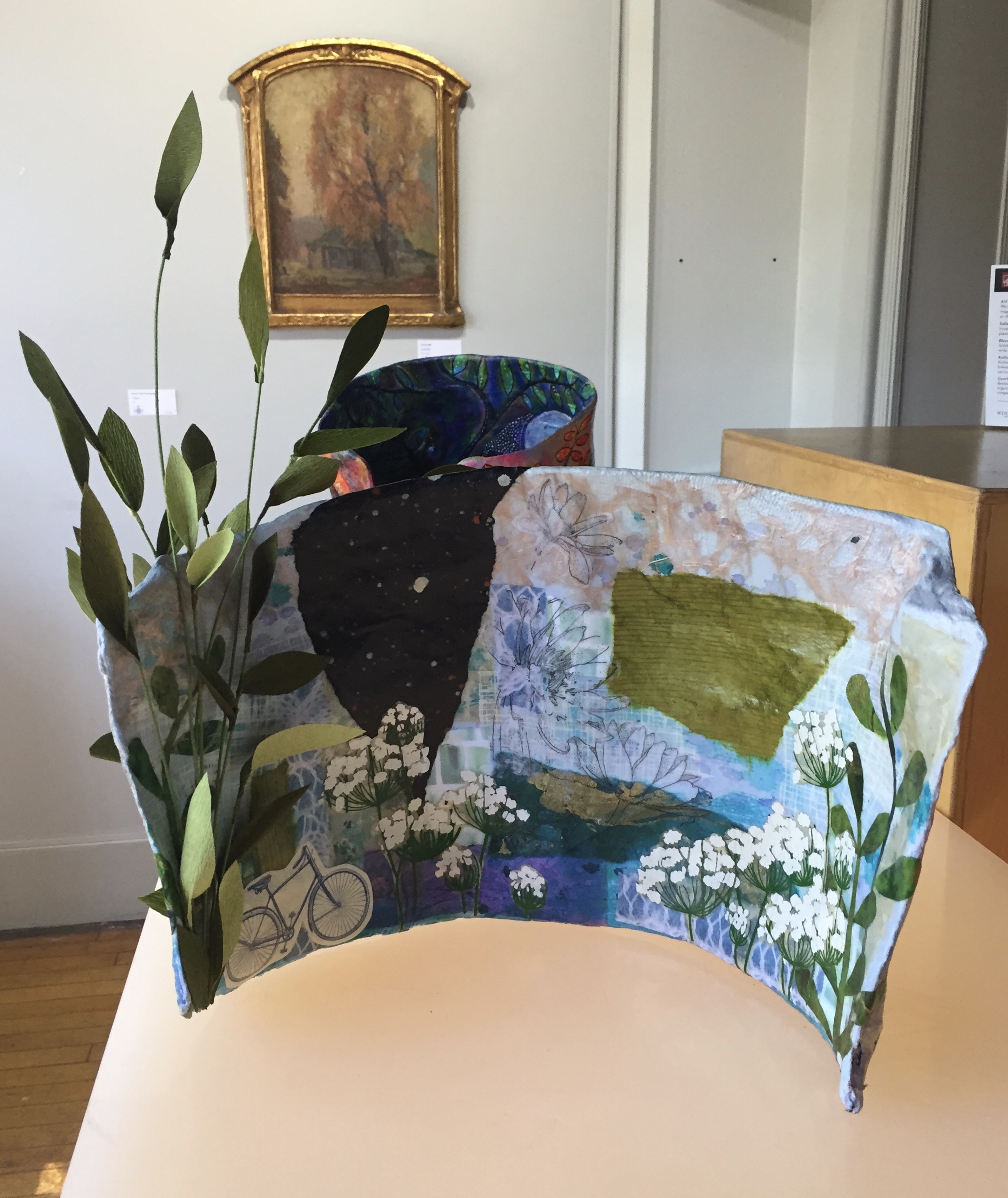 I got attached to this cast as I worked on it — understanding that this was about Andi, and this was made from her body — so my process became something sacred. This was to be a celebration of Andi's life in this moment, the beauty of today.
The show was powerful, to say the least. There were 11 casts total, and one of the participating women had died the week prior to the opening. The artist who was working on her cast was a personal friend of hers. I don't know how he managed to finish it.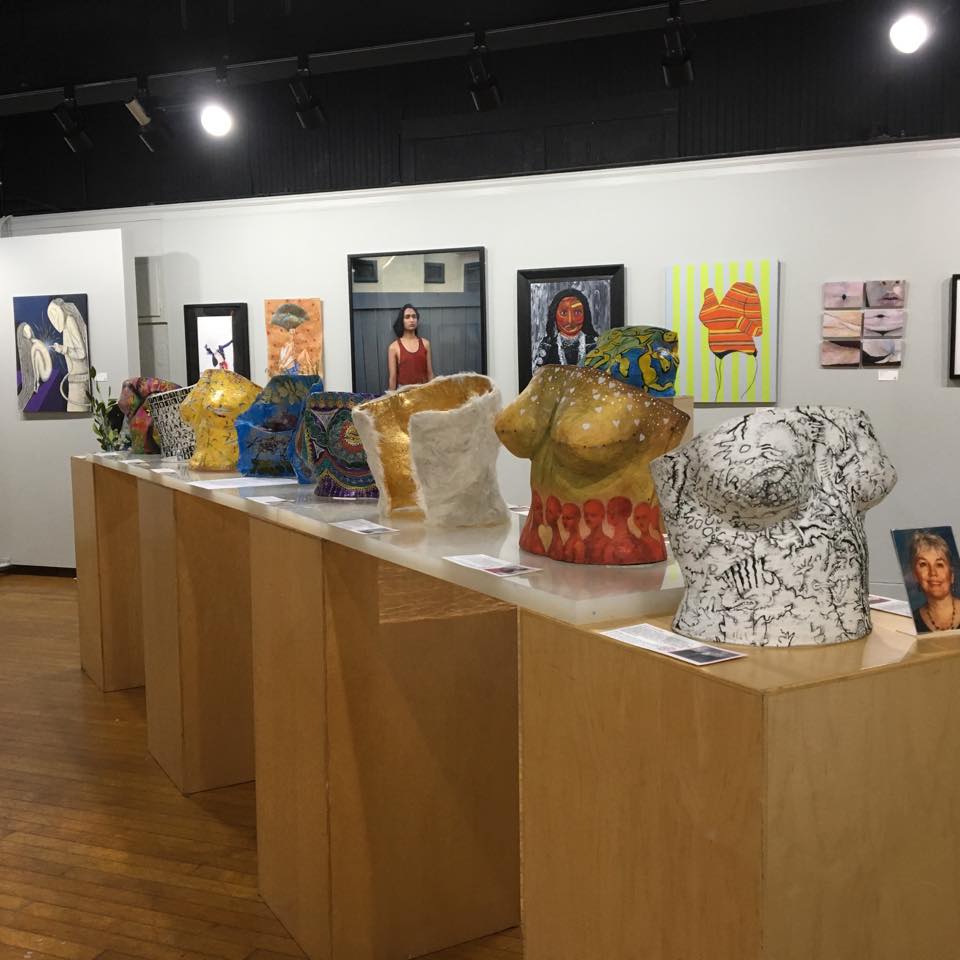 On the show's opening night, I was looking for Andi when I heard her call my name. I turned around and saw this vibrant, beautiful, smiling face. It was delightful to meet her in person. More than just delightful, actually. It was profound. I wanted to hug her right away, and so did she. We talked for a while, and got our photo taken since we were dressed in exactly the same colors. 
A few weeks ago, the Wednesday Journal published an article about the exhibit, and Andi was featured in it. Here's what she had to say about the project:
"Part of my willingness to do this is that a former colleague, facing mastectomy, wanted to see my scar," she said. "The cast is just beautiful. I feel very connected to it. No one will notice the scar. What I love is how, among the other casts, it shows such community — all these people facing these challenges."
Yes. Community.