Back in Oak Park now for almost a week. It still feels unreal to be home and I cannot get over how quickly everything seemed to happen over the last six, now almost seven, weeks! It was a whirlwind, honestly. People asked me many times if I ever felt isolated or bored while at the lighthouse and I can honestly say absolutely not. The week beforehand and the week afterward were just as packed with places to see, people to visit and things to do.
I had planned to write a post more focused on the end of my residency at the lighthouse, but as I await the shipment of most of my artwork I find I am not ready to write cogently about that. There are so many other aspects of this trip to share that I figure I'll focus on those things for a while.
One thing I had hoped to do while spending that much time in Shetland on the southern tip was to plan a visit to the northern tip, Unst. For one thing I've never been there, but also after staying in a Stevenson lighthouse on the southern tip I realized the northern tip is also punctuated by a Stevenson lighthouse, Muckle Flugga (yes, really).  It would seem a not-too-difficult undertaking as Shetland, from tip to tip is about 90 miles, but getting up to Unst requires two ferry rides, and then of course two ferry rides back to the mainland, and if you are going to go through all of that you want to go on a nice day if possible. We found that day on Saturday, April 2. Even the place where we awaited the second ferry was beautiful: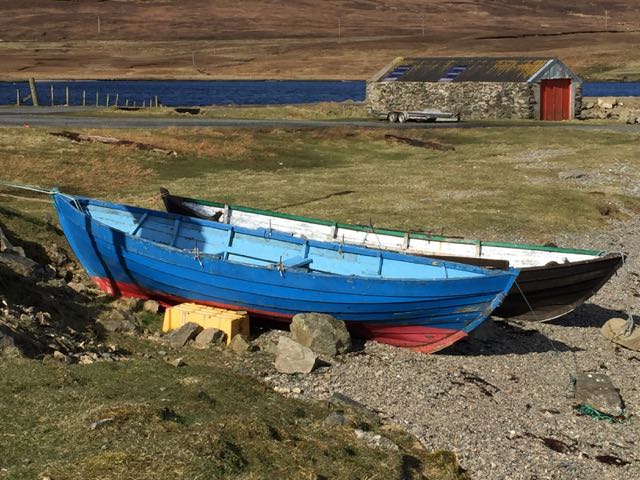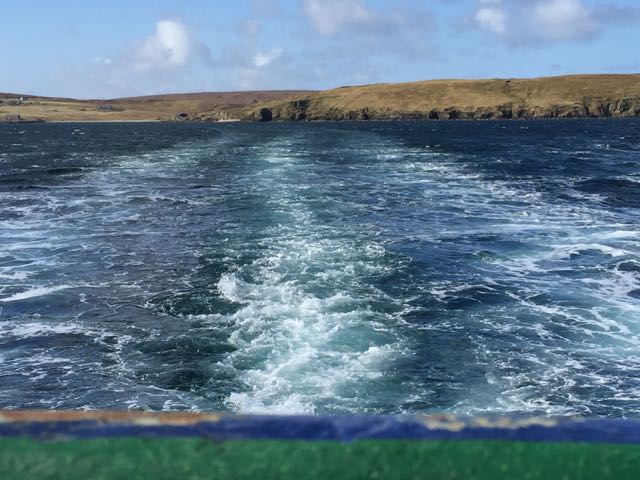 Then, the greeting upon disembarking at Unst: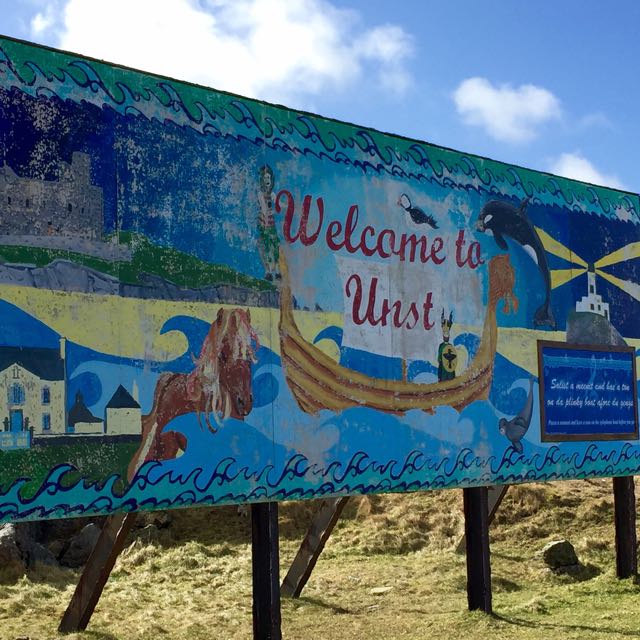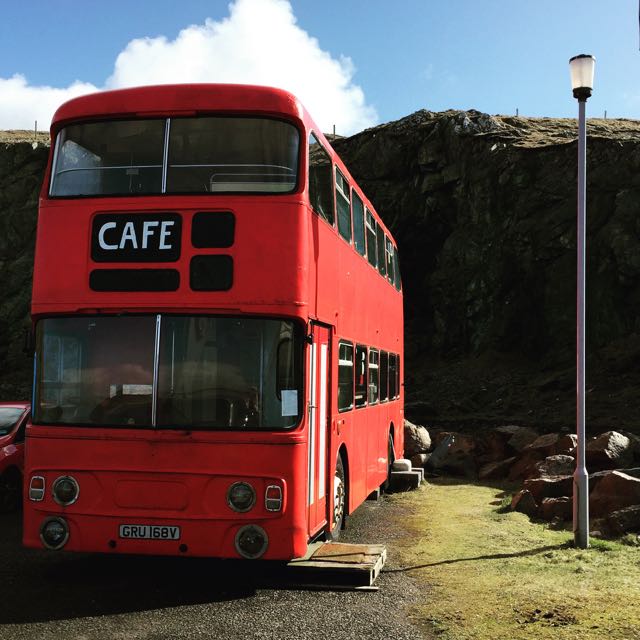 Though none of the official tourist attractions were open (they all open on May 1 or thereabout) it was spectacular! A benefit of being there prior to the start of tourist season proper was that we mostly had the place to ourselves. Another benefit was finding this wonderful tea room among places that WERE open. I did not indulge in anything other than a cup of coffee, but this array of treats was beguiling, and I think I have to write a post solely on the treats and other favorite foods from Shetland at some point: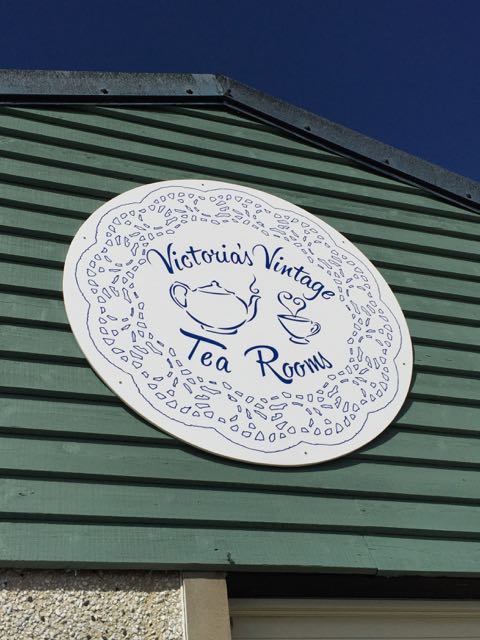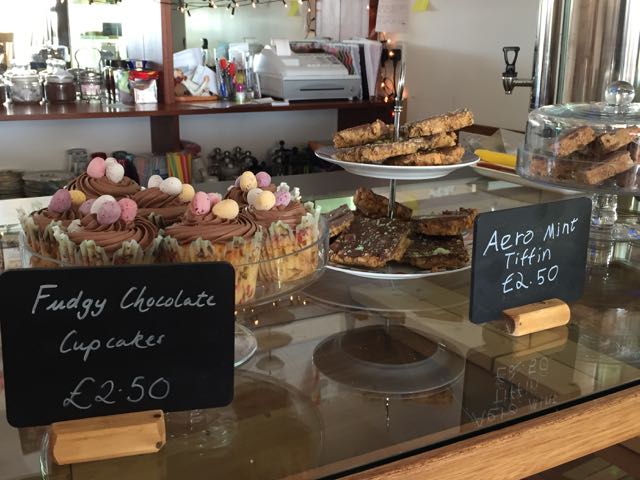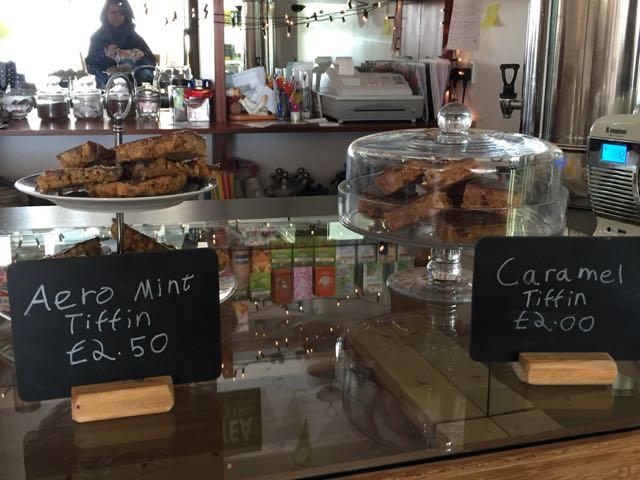 We drove to Norwick Beach, one of the most beautiful beaches in Shetland and one of the most geologically amazing places on earth. Unst is divided by a collision of tectonic plates, oh I don't know, some 500 million years ago, some of which from the ancient seafloor is now on the surface right here: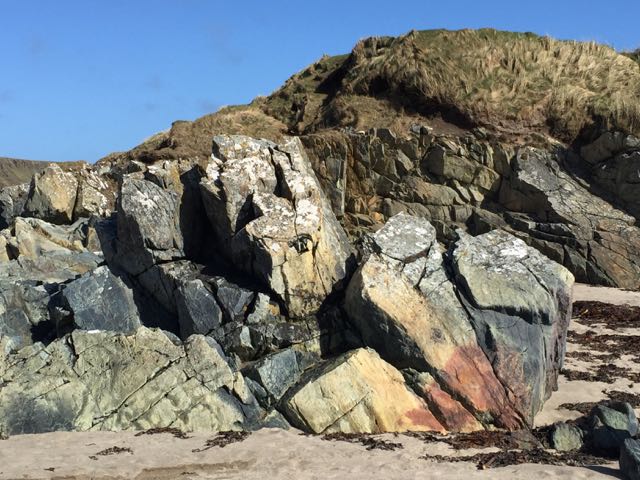 If you would like to read more about the geology, click here to start. There is a reason I struggled to pass my college geology course. I appreciate the beauty but can't begin to pronounce, let alone explain this wonder of the world.
The beach is also gorgeous and I couldn't resist getting my sketchbook out: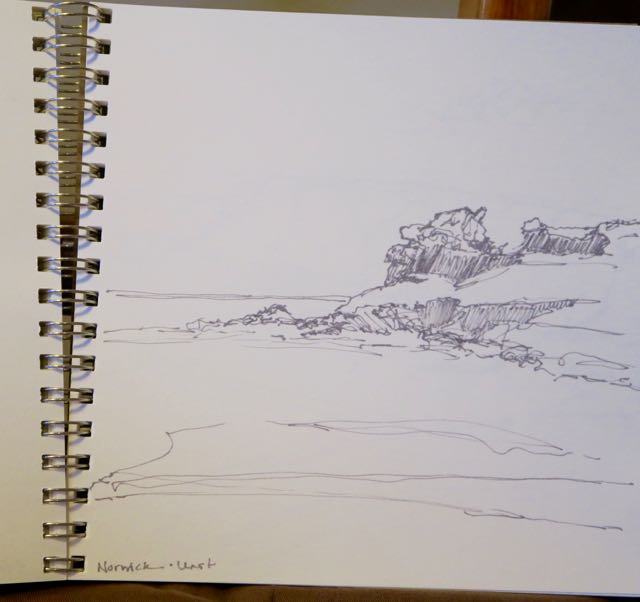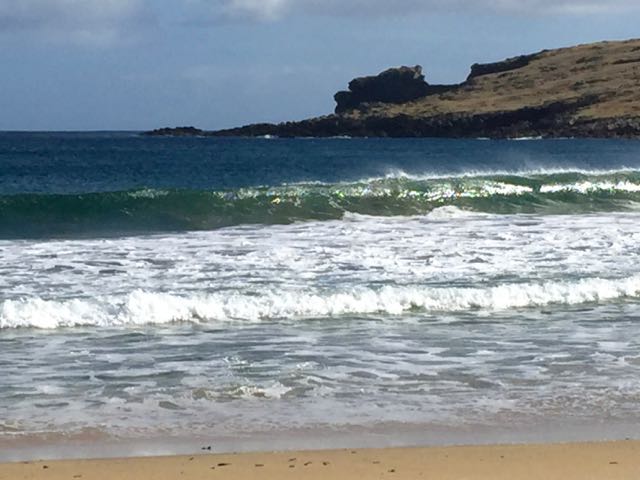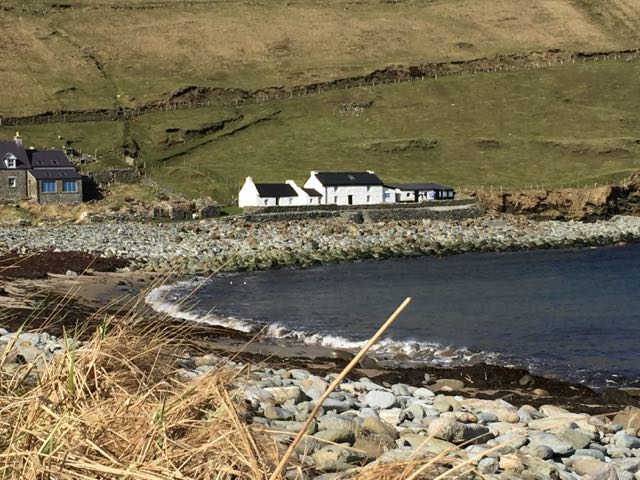 We meandered and stopped at a few places that might be worth mentioning but I'll skip to Skaw, the most northerly accessible beach in Shetland, where I also had to sketch: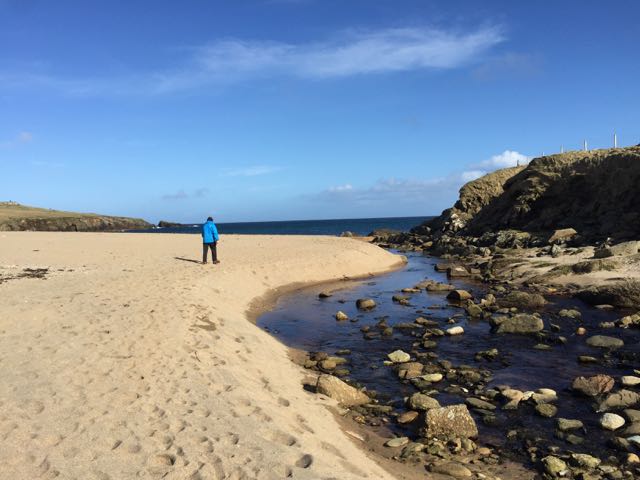 And then we went up to Saxa Vord so we could get a good look at the most northerly lighthouse in the British Isles, Muckle Flugga.
Okay, I need to pause for a minute a explain that most, or at least a lot, of the names of places in Shetland are derived from Old Norse. This is one of them. It loosely means "large steep-sided island." I spent a decent amount of time looking up what a lot of these place names mean, and it was kind of fun trying to remember different words in different places.
Here is the lighthouse, and missing from this photo are the tiny rock islands, Out Stack, just out of frame on the right, which are officially the most northerly bits of "land" in the British Isles: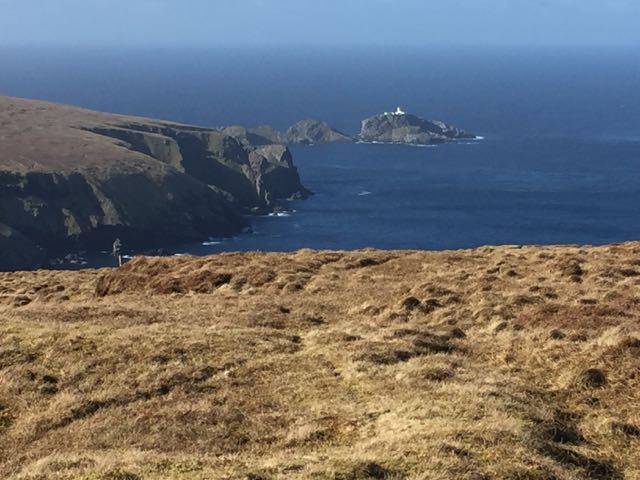 Not quite lastly, we went to the buildings where the lighthouse keepers who tended Muckle Flugga stayed — which are not anything like the arrangement at Sumburgh Head, in that they are miles away in a protected inlet from the lighthouse itself. At that site was another lovely rock beach where I found a gorgeous piece of rose quartz I brought home with me as a memory of being here.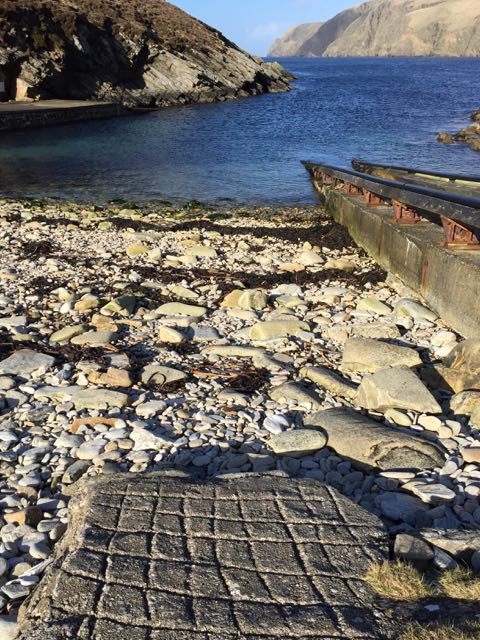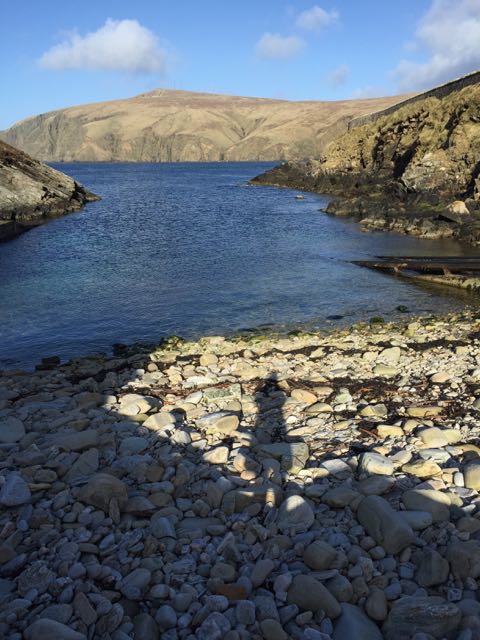 We were on the way to one more place before we had to catch the first of the ferries home when we ran into one of my old friends at a gas station. She was up in Unst for a walking weekend with her friends and they invited us for a cup of tea. Of course we went and closed out our day at Unst indulging in more exquisite home-baked Shetland treats. Like I said earlier, it was spectacular!
A last photo from the ferry back to the mainland from Yell: